Content:

1) Escalade is the most popular "American".
2) Exterior.
3) Interior.
4) Multimedia Screen.
5) Augumented Reality Technologies.
6) Specifications.
7) Escalade Safety.
8) Competitors.

Escalade is the most popular "American"

Escalade model is the most popular throughout our country. You can encounter this car even in small towns. Anyway, it is not surprising, since such SUV has all what is needed for our people: great utility, a variety of conveniences and technologies, and excellent off-road performance. This Cadillac will be fine both for recreational activities, e.g. fishing, and for important meetings. On top of that, it is very good for everyday use also. And now let's review it in details.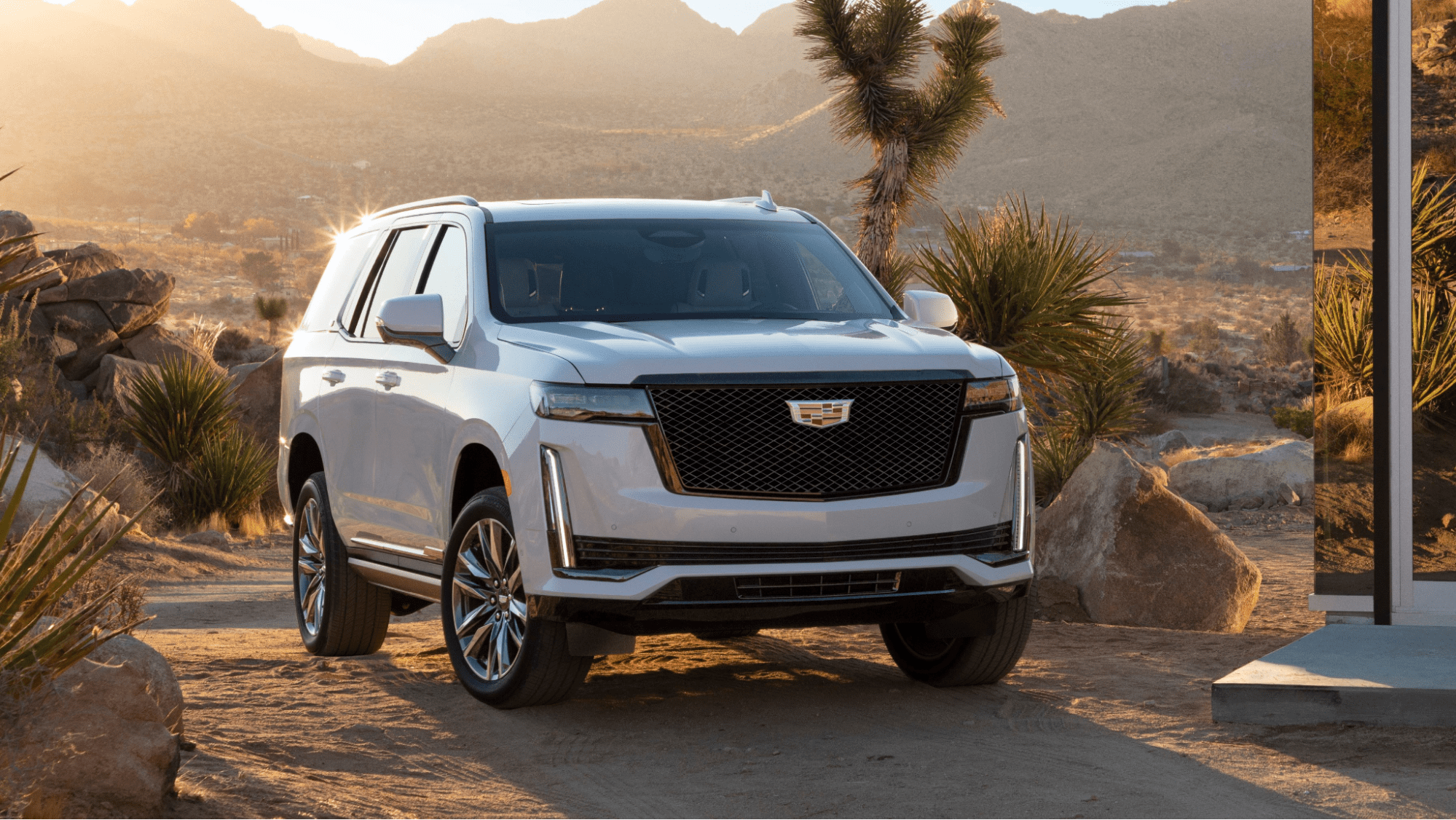 Exterior:

As compared with the previous generation, new Escalade has transformed greatly, both outside and inside. Real devotees of this brand definitely know the distinctive feature of all models — vertical running lights on both bumpers. In Escalade 2021, the company decided to change this partially on the front, therefore the upper lamps are horizontal, and the lower lamps now are vertical LED strips. Its large radiator grille as well as the lower part of the bumper now have more pronounced wedge shape. Moreover, the manufacturer allows to choose from three different variants of the radiator grille, it depends on the car configuration.




New Escalade viewing from its side in global perspective is practically no different from the previous one, it is still the same big American SUV. Now, all configurations offer disks 22 in diameter, greater or smaller ones cannot be installed. Automatic power running boards can be installed for extra 120 thousand rubles.




Its rear part has not changed practically. Classic vertical lamps, two chrome-plated pipes and big logo — all of them are present.
,

Interior:

Let's move into the car. Changes are more considerable here. Multimedia deserves individual attention, we will review it below. The three-spoke multifunction steering wheel has been modified slightly by inserting small elements that match wood color inside the car. It is still possible to adjust volume, switch over broadcasting stations, adjust cruise-control, etc. from the steering wheel. Small aluminum petals of the gearshift and other traditional controls of lamps and windshield wipers are located behind the rim.



Such big car has some inconveniences with the rear view, as such, the company has found a proper solution for this problem. The rear-view mirror, which functions as a screen in fact, has a small trigger. If you pull this trigger, the mirror turns on and starts showing an image from the rear camera.

The zone of climate-control is arranged under the multimedia screen. The center console, basically made of wood, accommodates one of the main upgrades of the model — the automatic gear lever. The matter is that it was installed behind the steering wheel in previous generation of Cadillac. It was something like a tribute to the old American vehicles. It didn't look good: the lever stuck out extensively and looked awkward. Now, it's much better. Then, there are wheels for screen control, volume, and some functional buttons. Door cards are leather-covered, with wooden and aluminum elements matching the entire saloon. The doors accommodate cooling and heating buttons.




The car is provided with over 30 loudspeakers, some of which can be found in the headrests of the driver and front passenger seats, so that ensuring good sound to the utmost.




Escalade provides several configurations of the interior space. You can install the second row, both three-seater and two-seater, free of charge.


Multimedia Screen:

Let's get back to the screen of the multimedia system. To be fully specific, there are as many as three OLED displays here. One small display is installed on the left side, the second one, functioning as a dashboard, is in the center, the largest one is on the right side. The main features of such screens are their curved shape and multi-layer design. As the company indicates, it is the first multimedia with such technology in the world.




The left screen is responsible for odometer readings. Also, it can modify the appearance of the dashboard, e.g. it can display a map or send an image from the night-vision camera at night. Apart from that, it is possible to adjust height and brightness of a view.




The right screen is the main multimedia system. Such display is very responsive to touches and doesn't malfunction at all. Currently, it can compete even with new multimedia in Mercedes S-class.


Augmented Reality Technologies:

It is another innovation in Escalade. This technology already begins to arrive to the automotive world. Nevertheless, it has very wide functionality. It works as follows: You set a route from "A" to "B" in the navigation section of the multimedia system, the dashboard display will show virtual tuning arrows, if you have preset this display from the left screen for displaying images from the front camera. Thus, it doesn't need to think where to turn, since a needed route is always before your eyes. It is particularly essential in cases when many turns are close to each other.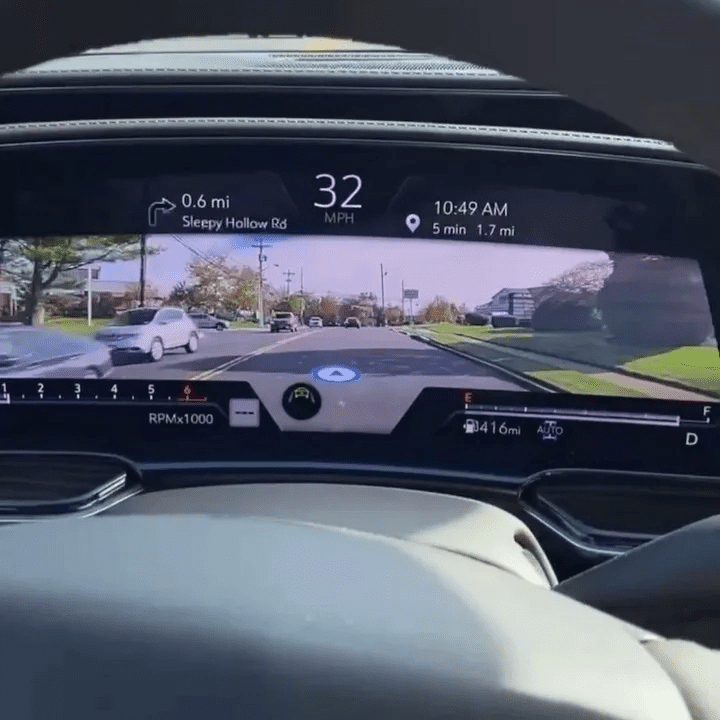 Specifications:

New Cadillac Escalade has been built on the base of another American SUV — Chevrolet Silverado. It uses an adaptive air suspension on advanced magnetic shock absorbers. As the brand states itself, there is nothing faster than that in the world. It also uses a new independent rear suspension. Special electronically-controlled air cusions function for roll levelling when making turns.

Car width reaches 2 meters, its length is almost 5.8 meters for long versions. Wheelbase comes from 3 to 3.4 meters (3071 mm and 3407 mm). Mass of the short-base version is 2700 kg., of the long-base is 2800 kg.

Power unit is represented by a large engine V8 for 6.2 liters. It can easily achieve 420 hp and torque 624 Nm. The motor operates together with the ten-speed automatic transmission with the hand shifting function. Maximum speed is limited by 180 km/h, and acceleration to the first hundred takes only 6.6 seconds, which is a good factor for such heavy weight. It certainly operates on 4WD, which can be deactivated from multimedia and the vehicle can drive on the rear-wheel mode.





A short time later, more cost-efficient 277-power I6 diesel engine should be released with 3 L supercharger. This engine will consume on average about 12 liters per one hundred.




Ventilated brake disks come from 343 to 345 mm in diameter. Hydraulic dual-circuit brake system ensures effective braking.


Escalade Safety:

New exterior and interior in Cadillac has yielded multiple safety systems. They make up an entire list:

— 7 air bags
— safety belt pretensioners
— Emergency Brake Assist
— Pedestrian Detection when moving forward and backward
— Vibrating Safety Alert Seat for driver
— Lane Keeping Assist System

Furthermore, it uses Parking Assistance Systems, a variety of clearance sonars, surround vision cameras and adaptive cruise-control.
Moreover, the company is testing self-driving function, and it is provided in this car as an option.


Competitors:

The main rivals of Cadillac Escalade 2021 are other big cars of luxury brands. They are:

— BMW X7




— Land Rover Range Rover




— Lincoln Navigator




This SUV is also compared with Toyota Land Cruiser and Infiniti QX80, as well as with cheaper Chevrolet Tahoe.




You can rent this car and many other luxury SUVs on our website..

That's it for now. Thank you for reading all through. We hope you like it. We will be happy to see you in our parking!