Content:

1) Urus Background.
2) Secret of Model Name.
3) Exterior and Its Features.
4) Interior.
5) Attention to Details.
6) Gearbox Control.
7) Off-road Specifications.
8) Urus Specifications.
9) Competitors.


Urus Background:

As of today, this SUV is the only big four-door car of this brand. It was released in late 2017 and arrived at market in as late as September 2019. This crossover has been created specifically to challenge such brands and Bentley and Porsche, which designed their outstanding SUVs long before. Now Urus is the best seller of Lamborghini brand. Over 16 thousand of such cars were sold by the end of 2021.


Secret of Model Name:

Those who is closely related to the automotive world probably have heard that the company chooses names for its models from the most powerful and strongest bulls of Corrida, Spanish entertainment. Urus somewhat has broken with this tradition. In fact, this name in Latin means a remote ancestor of bovine animals. In another foreign language "Urus" is translated as "combative", which is quite symbolic for this car.


Exterior and Its Features:

We will start our review of Urus from its front bumper. Like many other supercars, it has V-shaped bumper, thanks to which this SUV with its outline stands out against others. Also, there is a plenty of Y-shaped exterior elements. For example, running lights and a part of the radiator grille have this particular shape. And a special ball-shaped sensor in the center also should be noted. It is the device responsible for night vision function and cruise-control.




Viewing Lamborghini Urus from its side, we can find that it is a unique SUV among other charged SUVs. Its sloping roof makes us think that it's a sporty coupe, and wide rear wings give the picture of its magnitude. And you can discern here "Y" resembling shapes again. The big wheel houses have beautiful disks varying from 21 to 23 inches.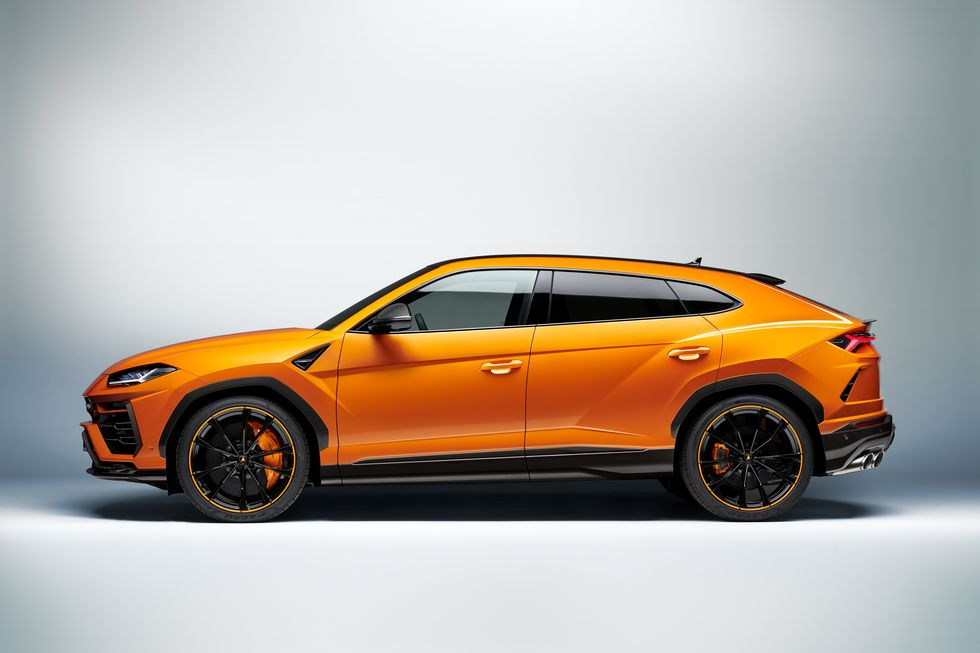 Y-shaped lamps also decorate its rear side. They are similar to those on the front. A spoiler-like unit is arranged on top of the roof. Since, it doesn't have windshield wipers, it assumes that the rear windshield will be cleaned specifically by air flows passing through the spoiler. Side vent holes contribute to sporty style of this SUV and also catch the eye. The bottom accommodates aggressive diffusor and four nozzles of the exhaust system.


Interior:

Let's move into the car and start with the driver's seat. Here, we see very convenient multifunction steering wheel, thanks to which you can control multimedia, answer calls, etc. Gearshift petals and two levers for light and windshield wipers are located behind the rim. Apart from its excellent graphics, the dashboard can change its appearance depending on a selected mode. We will review it below.




Now move on to the central screens. Urus has perfectly functioning multimedia. Apart from quick response to touches, the screen has nice vibration response. All conventional modes as map, courtesy light adjustment, access to all-round cameras and other standard functions are accessible from the upper monitor. The lower screen functions as climate-control panel. Hazard warning button, a couple of technical keys and some other climate bottoms are located between the screens.

Spacious zone which replaces the traditional gearshift knob and driving mode switch is below multimedia screens. This unit requires detailed review, as such, full information about this unit will be described below.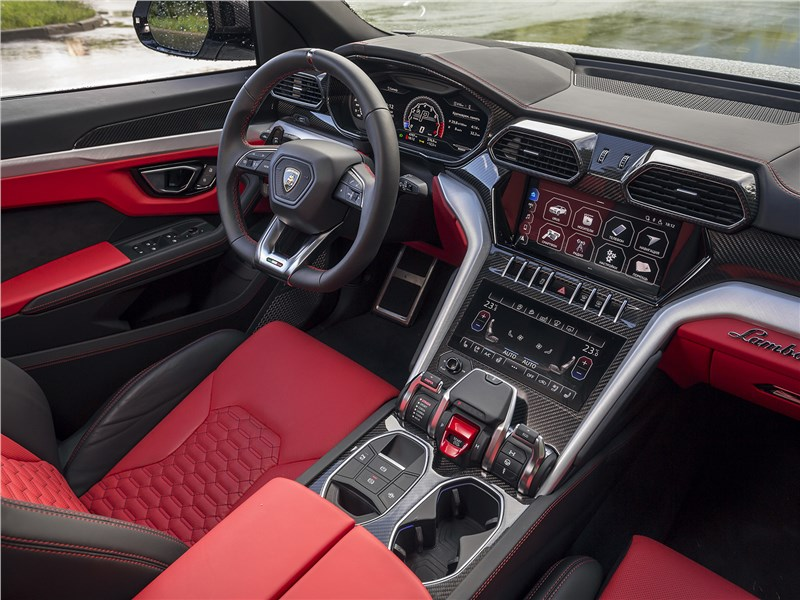 Very comfortable fist-row seats in this SUV also worth mentioning. Besides, they have multiple adjustments, pump-up, heating and cooling! Engineers have managed to add massage with a set of modes in these seats.

Now move on to the back bench. Trim materials are also fantastic here. As for conveniences, there is a separate climate-control zone for each back-seat passenger and cap holders. Moreover, the car can be configured with the back bench for two seats. In this case, power control of back seats will be available. In addition, back multimedia screens are provided as an option.


Attention to Details:

Lamborghini company is well known for its attention to details. Their SUV is no exception. The secret lies in duplication of similar elements on the entire vehicle. Y-shaped forms are the exterior features of that. As for the interior, such features are represented by honeycombs, or hexagons. This pattern meets you everywhere you look. Seams on the seats, shape of vent holes, some buttons and the background of multimedia system are only one of the places where this ornament is used. Even rear-view mirrors are designed in hexagonal shape. Similar solution is found on all brand models. Few people can notice such feature, though it's worth mentioning.


Gearbox Control:

One of the main challenges the drivers of such beautiful SUV can experience is transmission control. It represents a large zone of three units with levers, with the engine start button in the center. Urus also has its features here. To start off, you should pull the right-hand petal behind the steering wheel.

The central unit is responsible for parking, reverse movement, neutral and manual gear shifting using petals. Parking and manual gear shifting can be turned on also using the button on this unit.



The right-hand lever is responsible for driving mode change. And at this point, we will need some knowledge of Italian language. "STRADA" is the smoothest mode which is recommended for city driving. "SPORT" is responsible for sport mode. "CORSA" mode is designed for track riding. When changing modes, the view of the dashboard also changes displaying various useful readings.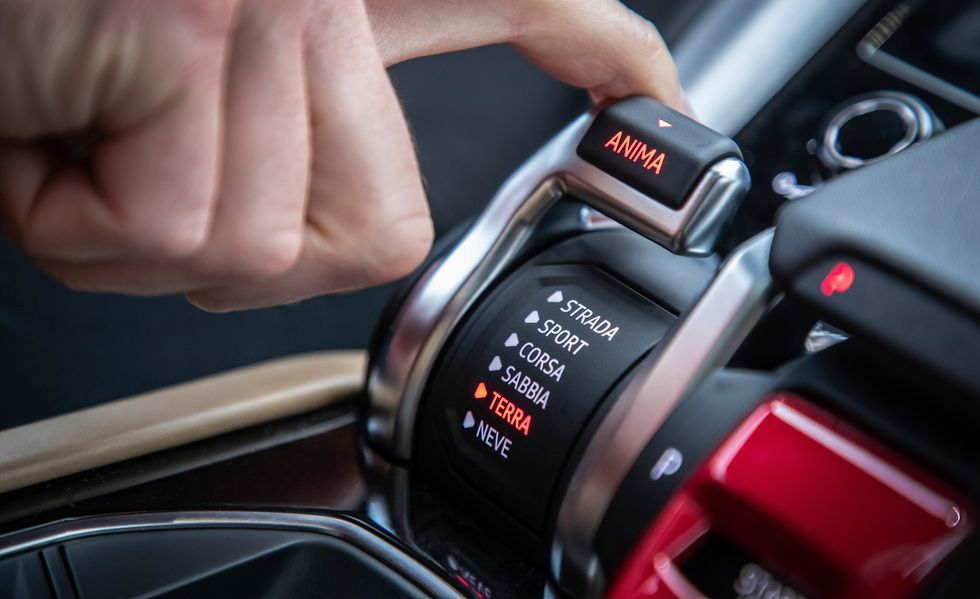 The next three modes are responsible for off-road driving. "SABBIA" is the special mode for driving on sand terrain, "TERRA" is designed for unmade roads, and "NEVE" is for snow.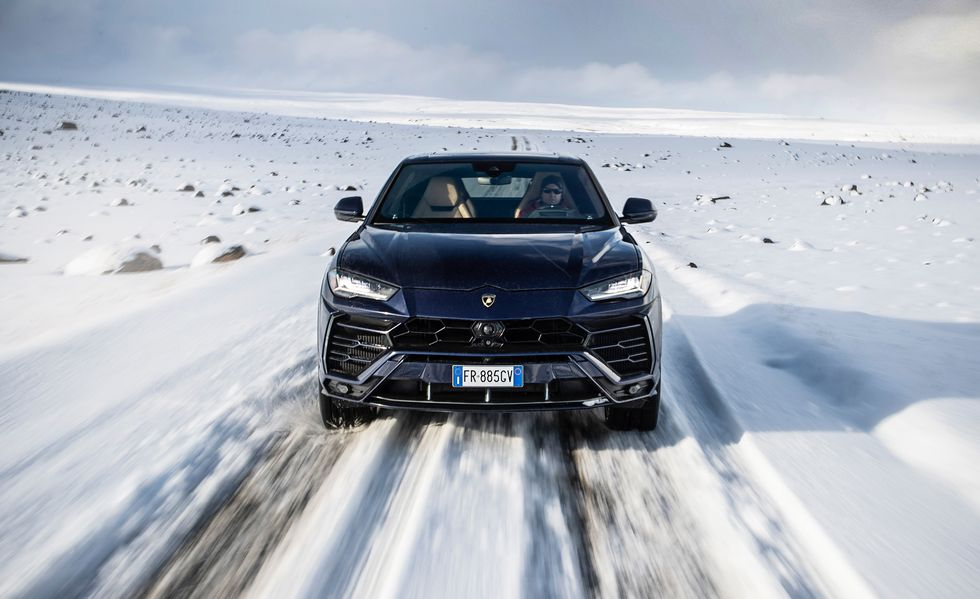 The left wheel is responsible for personal mode. It is something similar to "M1" and "M2" buttons on charged BMW. Here, the driver can adjust transmission, steering control and suspension independently based on his own preferences.

Off-road Specifications:

Despite its sport-style exterior, Urus is an off-road vehicle after all. Therefore, a variety of off-road functions are provided here:

— The abovementioned modes for snow, gravel and sand.
— Adjustable road clearance with five modes — from 158 mm to 248 mm.
— Wide angle of approach and departure, as well as fairly wide angle of sideways movement.
— Traction distribution mechanism depending on a road type.
— Descent control system.
— Spacious luggage compartment — from 616 liters with normal seats, and up to 1596 liters with folded flat seats.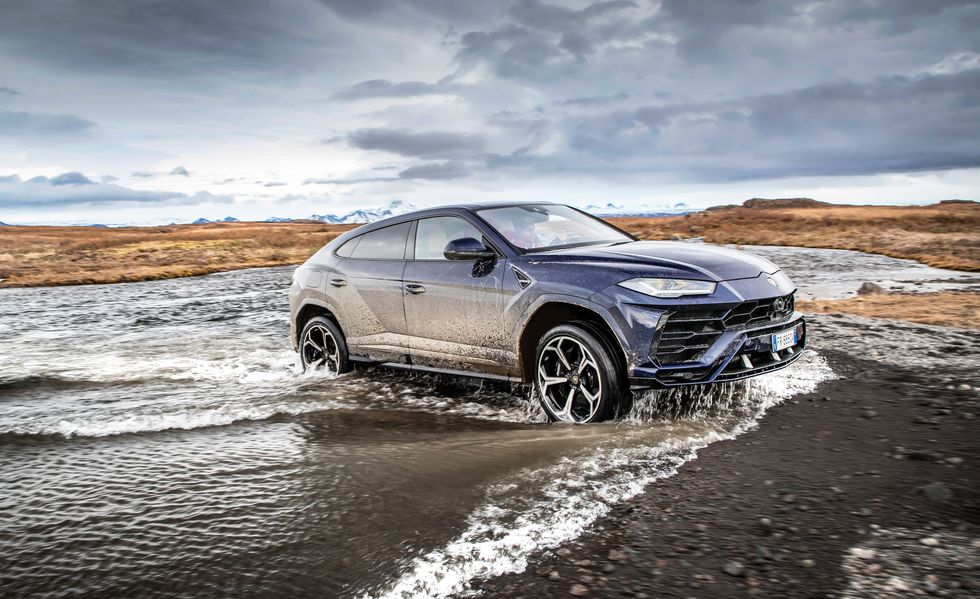 Urus Specifications:

Before discussing its technical part, we should remind you that this "Italian" is really unique for the legendary company. For a quarter of century, it is their first car with front arrangement of engine and four doors. Furthermore, it is their first Lambo with the "eight" under the bonnet in 30 years.

You may all know that Audi is the owner of Lamborghini, therefore, Urus platform — highly vaunted MLB Evo — can be found in such SUVs as Audi Q7, Bentley Bentayga and Porsche Cayenne. Suspension of all wheels is certainly independent. It is equipped with air bellows, power-controlled shock absorbers and active anti-roll bars, which makes coming into corners as smooth as possible. Steer-up mechanism of rear wheels allows this giant to make U-turns with relatively small radius for its dimensions.

Urus hides large four-liter V8 twin-turbo under its bonnet. The same one is installed in its same-platform vehicles, but particularly in this car it is the most heavy-duty. The power unit produces 650 hp and torque 850 Nm, and eight-speed automatic gearbox works together with that. They together accelerate this 2.2-ton "bull" to one hundred just for 3.6 seconds. Maximum speed of such car is 305 km/h. A short while ago Urus was the fastest serial SUV in the world, until its acceleration record was broken by Porsche Cayenne Turbo GT.



Urus in its basic configuration now uses carbon-ceramics brake system. Its front axle uses 440 mm brake disks with ten-pot callipers, its rear axle — 370 mm disks with 6-pot callipers. They are capable to stop this rocket from one hundred km per hour just on 34 meters.


Competitors:

I believe, now you all may guess, which cars are the main competitors of this Lamborghini by dynamics, status and power. Let's look at them:

— Bentley Bentayga:




— Porsche Cayenne Turbo:




— Audi Q8: